Senior Resource Teams consist of individuals who have completed training through the Senior Leadership Program and are knowledgeable of the programs and services available in Haywood County to serve seniors, individuals with disabilities and caregivers.  They are available to help individuals in their respective communities find needed programs and services. Call the Haywood County Senior Resource Center at 828-356-2800 for information on a Senior Resource Team in your area. Call the Haywood Senior Resource Center to find out how you can become a Senior Resource Team member and help seniors in your area.
Members of the Waynesville team organized a Senior Safety Day at the Waynesville Fire Department.
The Clyde team works on a community garden.
Team leaders lead a balance class.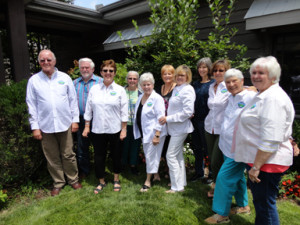 Graduates of this summer's Senior Leadership Program include (left to right):  Gerard P. Murphy, Jim Doyle, Tanna  Timbes, Karen Doyle, Courtenay James, Victoria Young (facilitator), Linda Sheinfeld, Patty Felder, Kathy Wiley, Nancy  Flynn, and Dale Jackson