Until we get back to doing our Creative Living Books, you'll find a (pdf) monthly calendar of events below.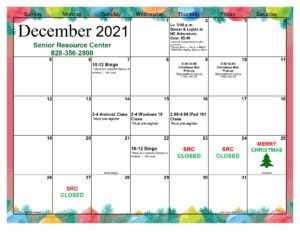 REGISTRATION:
STOP BY OR CALL(828) 356-2800
Senior Resource Center
81 Elmwood Way, Waynesville
PAYMENT REQUIRED TO REGISTER FOR TRIP OR PROGRAM WITH A COST.
REFUND/CREDIT POLICY:
Refunds for paid programs/trips will be given ONLY with the following conditions:
If your reservation is cancelled up to 5 business days before the program/trip date.

If the SRC cancels the program/trip.
Refund money will be given no sooner than 3 days after the date of the program/trip.